For the last week or so I have been wearing set 9 of my Invisalign upper refinements – the last set! I'm thrilled to report that not only have my teeth improved over these nine sets, they have improved in all the places that didn't improve with the first run of 17 aligners. The molar on the right hand side which was out of line and too long has now moved into place perfectly. The front left tooth that was still twisted and out of line is 99% straight now- although I would like to get that last 1% corrected too as it is a front tooth. One thing I'm not sure of is whether at this point that is still an orthodontic issue or something that will be fixed by getting my new crown on the tooth next to it (yes, the ugly old crown on the front left tooth is still hanging in there, and still horribly discolored – see pics below)
However, having corrected those problems another one has arisen. My upper left molars now look to be in shadow compared to the front teeth. In fact they looked substantially better at set 23 of my Invisalign than they do now. I'm not sure whether this is because my eye tooth has moved outwards during my refinements and thrown them into shadow (you can see that it was programmed to move out on the refinements clincheck) or because the molars need to move out more. I notice that on the clincheck the front few teeth move out, but the molars don't move with them, hence the problem. I mentioned this to my orthodontist at my last appointment and he hummed and haaahd and was a little noncommittal, however I am certain I want to fix this. I know that I said that I didn't want perfect teeth, but it turns out that I am not as laissez faire as I first imagined and I do want them more perfect than this! Judging by how things have gone so far, and how well my Invisalign have worked up to this point,  I imagine that it would be a very simple refinement to get them where I want them,
In another week or so I have a long appointment with my orthodontist where we will remove the upper attachments (joy!) look at my upper teeth and decide what to do with them. He seems quite keen on leaving them as they are- I am much, much less keen on that idea! Fortunately he is the kind of orthodontist that really seems to take your opinions into account, so I'll report back after my appointment as to what we decide.
My lower teeth are now on set 29 and I am thrilled with how they are progressing. If you look at my original pre Invisalign pictures below you can see that they were really, really straggly, for want of a better word. They are not perfect yet by a long way; but they are so, so much better.
Anyway, I'll leave you with the pictures and let you judge for yourself. Please feel free to leave a comment letting me know what you think. Clicking the "leave a comment" link at the bottom of this page will take you to the comments form. As always, thanks for reading.
Before Invisalign: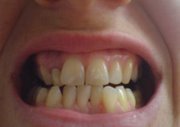 After 29 sets of Invisalign braces on my lower arch and 17 original plus 9 refinements sets on my upper arch. See how much the bottom teeth have improved:
This picture below shows how the left side upper molars are thrown into shadow behind the eye teeth now. In both pictures and in person those teeth almost look "missing" now:
Whereas in this picture below taken at set 23, before the eye tooth moved outwards, the molars looked much, much better and were visible when I smiled.
I will be taking a copy of these images to show my orthodontist and see what he says- Watch this space!