In the beginning… there were my teeth. English teeth. Teeth that have got me through 35 years, self confidence reasonably intact, and even through 9 years of modelling- in the days when perfect teeth were a nice bonus but not strictly compulsory in the modelling world.
The thing is though, that I have never been happy with them. They aren't bad enough that I always remember to put my hand up to hide them when I smile (although I often do), but they aren't good enough that I would consider smiling naturally. People probably assume that I was born with this strange lopsided grin. I wasn't, I cultivated it slowly over my teenage years as the most effective way of hiding my wonky, and less than beautifully white teeth. Just because I cultivated it doesn't mean that I like it, however.
And so, at the age of 35, perhaps as a mid-life crisis, perhaps thanks to the grace of new technology, I have decided to fix my teeth. My objective isn't perfection. At 35, and at the point from which I'm starting, it is unlikely that perfection is possible. What I want is good enough. Good enough for people to think I have "nice teeth" but perhaps not perfect teeth. Even just good enough for people not to think I have "goofy teeth" as I once saw a potential client had noted on the bottom of my model card. I would like my teeth to be good enough that no one ever again notices I have bad teeth- so I can blend into a room full of people anywhere in the world.
So, I shall record my journey here and see where we end up in my pursuit for a Hollywood smile.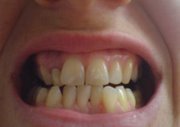 Want to jump to the end? Check out my Invisalign before & After video and photos.