Just thought I would write a quick post about teeth bleaching or whitening with Invisalign because I get a lot of queries about Invisalign whitening and how to whiten your teeth with Invisalign. You probably can't tell from my previous photos, because, in truthfulness, I am embarrassed and only pick the best pictures, but my teeth are really quite yellow.
Fortunately one of the great things about Invisalign is that you can use your aligner trays to bleach your teeth
.(#aff link) Unfortunately, you have to do it before you get your buttons (attachments) on- so in my case (and I'm not sure if that is standard) within the first four weeks. For those of you who haven't heard of attachments yet, stick around, because I'm sure you'll be hearing me moan about them in the near future! In short, they are small blobs of a tooth coloured substance attached to your teeth to help give the Invisalign aligners more grip.
For the first week I was still too consumed by the newness of it all to get around to bleaching, but last night I thought I would give it a shot. I can't bleach my crown, but it is being replaced at the end of the process, so I have decided on balance to bleach anyway and just deal with having a mismatched crown for now. Let's be honest, my teeth are pretty dire anyway, one slightly mismatched tooth will barely make a difference.
The system my dentist has given me is a home bleaching kit called nitewhite, #aff that has 22% peroxide. (Note- if you live in the UK you can't buy this there because it's stronger than is allowed- you can order it from Amazon here (#aff)  though with shipping to the UK). For tooth whitening with Invisalign you use your invisalign aligners as the bleaching tray and stick one spot of bleach into each tooth space. My orthodontist charged me $40 for the bleaching, which seems fairly reasonable to me, particularly when compared to the cost of the zoom whitening system that my dentist suggested.
I merrily filled my aligners with the bleaching gel last night, taking care to put only as much liquid as suggested into each one. Nonetheless when I put them in the gel squirted out the edge of the aligners onto my gums. I spent 10 minutes or so mopping up the excess with a cotton bud.
They actually made my aligners feel tighter again, more like the second day of wear, so perhaps it is advisable to do this only on the second week of each set, I imagine that in the first few days it might make them more uncomfortable.
This morning, I jumped out of bed and inspected, and my teeth are definitely whiter. Probably by 2 or 3 shades at least. However, one of my bottom teeth, (and of course, one of the ones at the front) has an area that is significantly whiter than the rest. Really a kind of Hollywood "gleam". It looks like I have dropped a spot of liquid paper onto my tooth, but vigorous brushing has shown me that it is not going to change. Strangely it also appears more opaque than the surrounding tooth. Really, I have no idea how this happened or what I am supposed to do about it. I think in the meantime I'll just keep going, bleaching each night and hoping that they match up, and then ask my orthodontist about it at the next appointment.
***************************************************
I am writing this second element of this post another day on, after a second night of tooth whitening with Invisalign. Nothing new has happened with the odd white spot, but the rest of my teeth are looking MUCH whiter. In fact, there is something strangely addictive about this whole whitening thing. I hope I can temper my enthusiasm so I don't end up with one of those crazy over-bleached smiles…of course, I would then have to get a serious orange suntan to match to get the full Eurotrash look going on- and with my pale aspirin English Rose complexion that is never going to happen.. but if I start posting pictures of an over-tanned, over-bleached me, feel free to let me know via the comments form! I am supposed to keep going for several more nights, but I may have a break for a bit as I noticed that my gums are sensitive and prone to bleeding the morning after the bleaching.
Still, my husband, who has always been fervently against me changing pretty much any aspect of my appearance has admitted that my teeth look much better whiter. I actually think it makes me look younger, or maybe I'm just flattering myself! Lord knows, it wouldn't be the first time.
It seems to me that this might actually be a good thing to do at the beginning of the Invisalign process as a motivational tool. It can be quite trying getting used to wearing the aligners, and this bleaching has acted as a little boost, a metaphorical pep talk, in helping me imagine how great my teeth might look once they are finished.
The only problem is that once you start scrutinising your teeth so intently, as Invisalign has a way of making you do, you find more and more faults. I have never liked my teeth, but I never thought they were that bad. Now, I can tell you what I dislike about the shape, position and angle of each one. I seem to remember writing at the beginning of all this that I was looking for nice teeth, not perfect teeth. I think, maybe, I just need to get out more..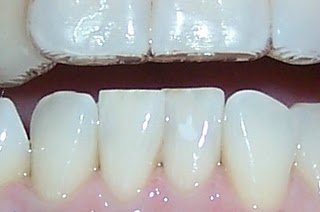 Here is a picture of the offending tooth with its white spot, (bottom centre) and I didn't even have to enhance this picture to make them look whiter. Yay! You can see in the picture just how mismatched that ugly old crown on the top row now looks, but my teeth matched it perfectly before, so maybe it's a good thing that it no longer matches!!
**********************************************************************************
A quick PS a week later. I have found that after about 3 consecutive nights of whitening with Invisalign my gums get sore and cracked. I think it is best to bleach 2 nights, followed by 2 nights bleach free and repeat as necessary- please let me know whether you have a better method
***********************************************************************************
This is the product that I used for tooth whitening with Invisalign. I purchased it through my orthodontist but it is also available here (#aff link) through Amazon a lot cheaper!
For people who don't yet have Invisalign trays there are also kits that come with a tray for you to use so you get the same bleaching effect without needing Invisalign.