My Invisalign braces and I have been through a lot lately!
Whilst I have largely adjusted back to the rigors of full time Invisalign wear and the brush/floss/no snack lifestyle that that entails, the rest of me has been slightly under the weather. So under the weather in fact, that I was tripped off to hospital so that they could put a few cameras in my stomach and work out what was going on.
Luckily enough, the answer was nothing that can't be fixed with time and medication- phew! -but in the meantime I must confess that I somehow "forgot" to remove my braces when I was knocked out- whoops!
I don't know about you but I am an absolute baby when it comes to all things medical or dental. Show me a white coat and I'll show you a racing heart and blood pressure through the roof. So as I sat in my hospital bed, bottom lip trembling, mentally composing goodbye notes to my loved ones and waiting for them to come and knock me out I wasn't about to win any bravery awards.
The very, very sweet nurses, being used to cowardly patients like myself spotted that I was on the verge of tears and got the very kind and very competent anesthetist to come and offer me some comforting words-words which worked a treat at helping me steady my nerves. Somehow though, in the midst of my self absorbed terror I forgot to mention to him that I wear Invisalign – oops.
So it wasn't until I was in recovery, in the kind of after surgery bliss that only strong opiates and the joy of having actually made it through the anesthetic can induce, that I suddenly realised that my braces were in. I mentioned it to the nurse looking after me, who winked at me, told me to keep it to myself and said "no harm done".
What is amazing though is despite that fact that my doctor had me knocked out, had put a camera down my throat and had various breathing and other apparatus near my mouth over the course of the afternoon, no one noticed that my teeth looked any different. I suppose that is a great advert for Invisalign invisibility if nothing else although I'm not convinced it's recommend practice to keep your braces in during anaesthesia. Don't try this at home folks!
Anyway, aside from the dramatics my teeth are continuing to improve. As you can see from the Invisalign braces before and after pictures below, the molars on the right hand side upper are now starting to appear from behind the front teeth, so I no longer appear to have half a mouthful of teeth in pictures. The bottom teeth changes are less visible, but judging by the amount of pressure on them something is certainly happening… One thing I would say is that close up pictures like this tend to highlight every flaw. In real life my teeth look much better than in these pictures- or I think so at least!
Before Invisalign: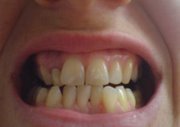 Latest Front picture (as usual please ignore the ugly old upper crown, it will be changed after treatment finishes):
Profile Before Invisalign:

Profile July 2010:

Alternate View July 2010:
As usual thanks for all your comments and for reading, I love to hear about your experiences too. For prospective invisalign braces wearers you might find my Invisalign FAQs helpful..