Those of you who are long time readers will know that my top teeth are finished…kind of. I am wearing a retainer only at night these days on my upper arch, waiting until my bottom teeth are finished. At that point we will tweak anything on the top that needs it at the same time as we do any tweaks or refinements on the bottom arch. I have also decided to wait until all of the bottom teeth are finished before I get my upper crown sorted. This is partly due to financial constraints (nearly $2,000 for a new crown means I want it done only once) and partly me putting it off because I'm terrified! If you don't know my full crown saga, suffice to say it is the ugly yellow looking tooth, right next to my top front teeth. The scariest thing is that before I whitened my teeth earlier in my Invisalign treatment it matched my other teeth perfectly!
For my bottom arch I am now on aligner #2,734. I kid, but it sometimes feels like it… In reality I am now on #21 of my 54 lower Invisalign refinements. There were also 34 in my original run that I wore before I started on these refinements. That means of the 88 lower aligners that make up my treatment in total, I am on #55… unless I lost count. Whichever way you look at it, that's a LOT of Invisalign. (Although I should point out here for new readers that my teeth were essentially a jumble sale before I started Invisalign. A misaligned, misshapen, discoloured mess of a mouth…)
Take a look for yourselves at the differences….
My teeth don't actually change that much visually these days, all the action is at the back where we are opening up a gap for a tooth to move into. My orthodontist warned me from the start that this would take a long time, and he was right. Looking back at where I started from though I think that every one of those 55 aligners has been worth it…
Invisalign Before and After Pictures – after 21 aligners: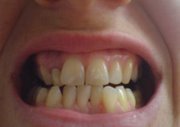 Incidentally, apologies for the colour on these photos. You'll have to take my word for it that my teeth really aren't that yellow in reality. Honestly!
How many Invisalign do you have? Can anyone beat my record of 88?